How Frequently Is Teeth Whitening Prescribed by the Burbank Dentist?

Lots of people in Burbank whiten their teeth these days. It's one of the best ways to restore your beautiful smile. If you too want to get sparkling white teeth, get in touch with Dr. Sahakyan, the best dentist in Burbank.
He would tell you all about the teeth whitening procedure in great detail. Let's look at what the Burbank dentist has to say about the frequency of getting teeth whitening done.
How Often Should We Go for Teeth Whitening?
Although teeth whitening is absolutely normal, overuse of anything is bound to produce negative results. Remember that whitening agents use hydrogen peroxide to produce a bright shade. Like all chemicals, this chemical too should be used to a minimum on your teeth.
Overuse of whitening products on the teeth may lead to the wearing off of the tooth enamel. This may, in turn, cause tooth sensitivity. Your very own Burbank dentist would guide you on how often is whitening required.
Ideally, you can comfortably wait for at least 1 year before scheduling an appointment with the Burbank Dentist, Dr. Sahakyan for a whitening touch-up. If you maintain good oral hygiene and avoid diets that cause tooth staining, once-a-year whitening is sufficient.
However, if your teeth are more stained because of tea, coffee, or acidic beverages, go to your Burbank dentist early. He would examine your teeth stains and guide you accordingly. Sometimes, over-staining may want you to go for a touch-up within just a month. The dentist would be the best person to seek guidance from.
Are Tooth Whitening Products Safe?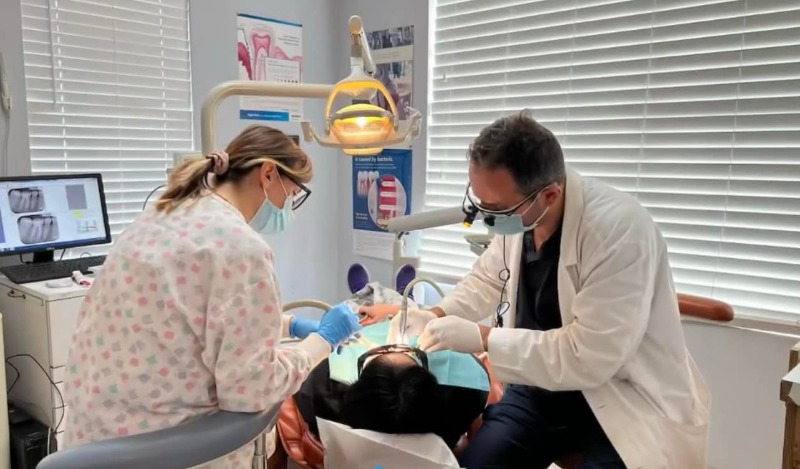 Teeth Whitening in Burbank is a renowned cosmetic procedure in the region. Dr. Sahakyan himself carries this out. Besides that, he examines your teeth and their texture to tell you which whitening agent is ideal for you.
It is always recommended to consult your dentist before getting tooth whitening done. In-office procedures are definitely safer than those carried out at home because of the products of the former use with the approval seal.
Similarly, if you do wish to use at-home teeth whitening kits, make sure to check for Medical Association's approval seal. Most important, owing to its growing popularity, numerous teeth whitening products are available. The choice is exorbitant. Therefore, you may skip assessing the authenticity of the product. But remember it's in your own interest to do so.
Before going for home kits too, always check with your dentist on the safest brand to choose from.
Most importantly, be careful with how long you use home remedies. Overusing any brand product can cause severe tooth damage.
How Is Teeth Whitening Done?
The process is simple and quite common in Burbank these days. Always prefer to get it done professionally at your  My Dentist Burbank clinic. Our dentists and dental hygienists have years of experience in tooth whitening. Here's how they would carry out the procedure:
The dentist would first record the current shade of your teeth.
Then he would polish your teeth with pumice to help remove any plaque build-up.
He may use a small gauze piece to dry up his teeth. He would also place a barrier near the gum line to prevent exposure to the solution.
Now is the time to coat the teeth with a whitening solution. Make sure to apply it only on the tooth's front surface.
Leave it on for 30-60 minutes to get the desired shade. You may have to schedule additional sittings with your Burbank dental office until you achieve the optimum shade.
There's no harm in getting teeth whitening done. However, it'd only be best to get it done by a professional dentist in Burbank. Call 1-818-578-2332 today for an appointment today.