How to Take Care of Dentures Correctly
Tooth loss is natural. It's a common phenomenon as you get old but it may also happen sooner. Dental problems like tooth decay or cavity, if worsens, can result in losing teeth. But losing a tooth or two shouldn't stop you from smiling vividly.
This is why dentist Burbank suggests wearing dentures to help you eat, talk and smile like before, even after tooth loss. Dentures refer to artificial replacements for partially or fully lost teeth.
Burbank dentures are made extremely comfortable and durable to last longer. Dr. Sahakyan himself takes great care in ensuring that the dentures fit your mouth well and are easy to use. However, they need a lot more care at home as well to go on undamaged for several years.
This is how you can take good care of your dentures and lead a normal tooth-free life.
Steps to Take Proper Care of Dentures
Once you start using dentures to make up for some or all of your lost teeth, it's important to visit your dentist in Burbank regularly. A routine checkup by the best dentist in Burbank, Dr. Sahakyan would confirm if there's a problem with the denture and a possible solution for it.
But at home, you can keep the following points in mind for good denture care:
Don't wear them at night. Avoid wearing your Burbank dentures when you retire to bed. Dentures are meant to provide you support during mealtimes and talking. But at night when both activities need a rest, your dentures should too.
Don't drop them! Dentures are generally made of plastic and therefore, a single drop may lead them to break off. Therefore, take extremely good care of your dentures. Always place them on a soft towel before cleaning them.
Brush them daily. Just like your teeth need brushing to stay clean and healthy, so do your dentures. Make sure you brush them at least once every day to remove any leftover debris from between them. Dentures need extreme care because they are placed in the mouth and any problem may lead to oral disease.
Take care of not just dentures but your whole mouth. Brush your teeth twice daily and also floss them regularly. Besides that, always rinse your mouth well after removing your denturesBurbank and before putting them back.
Visit your dentist as soon as you sense a problem. Dentures are extremely delicate and need the utmost care. Even after following these tips, if you sense a problem with your dentures, don't hesitate to visit your Burbank dentist.
Dr. Sahakyan would check the fitting of your dentures to determine if they've become loose. Besides that, he would also guide you on the diet to eat to maintain good healthy dentures.
What Not to Do With Your Dentures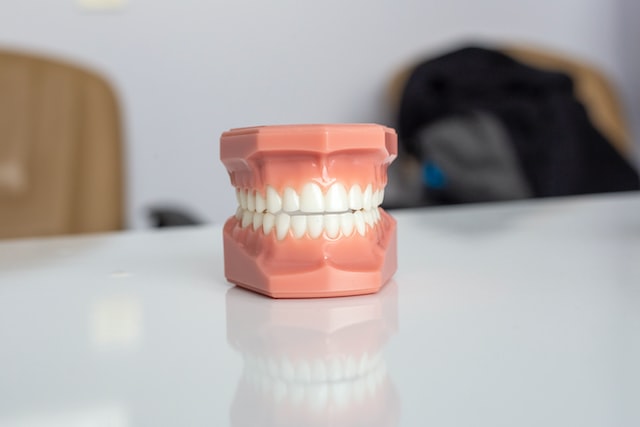 Burbank Dentist Dr. Sahakyan offers some guidelines on the things to avoid while dealing with dentures.
Don't drop them. Take extreme care in handling the denture, especially during brushing or rinsing it. Besides that, it's a good idea to place a soft towel in the sink to prevent denture damage. You can also fill the basin with water to take care of the denture slips off.
Don't use abrasive chemicals and whitening agents on your dentures. They can be too harsh for the denture material and may also damage it.
Don't rinse the denture with harsh solutions. Always soak your dentures in Burbank overnight in the rinse solution suggested by your dentist.
Dentures are very delicate. They need to be taken care of equally well as your own teeth. let Dr. Sahakyan assist. Call him at 1-818-578-2332.