Gum Disease With Braces
Teeth are undoubtedly the key components that make our smile brighter. Strong and perfectly shaped teeth enhance the aesthetic of our face and boost our personality. In addition, these also help us to chew food properly and thus, support in maintaining overall good health as well. Now, what do the gums do? Gums, in fact, hold the teeth, and hence, any infection in the gums directly affects the teeth. Similarly, teeth disorders can badly affect gums' health too.
Teeth misalignment is one of the common dental disorders that we face. To fix this issue we need to wear braces. The concern is what will happen if we wear braces when at the same time, we have gum issues also? You can always contact us if you are having similar concerns. You can call us at MyDentistBurbank for your dental consultation. To continue further, let's dig more into it. Furthermore, you can search for the words "Burbank Gum Disease" online to have a list of clinics and dentists that deal with such issues.
Can We Wear Braces While Having Gum Diseases?
Honestly, it's a normal thing that you wear braces and at the same time, you have a gum infection. Here, the main thing that you need to do is to clean your teeth and gums in a cautious manner. Thus, while you clean, the braces remain intact and unaffected.
Also if the braces fit into your teeth properly then, your gums remain untouched and don't bleed because of them.
Again, if a bacteria or infection in your gums is detected in the early stage then, that can be cleaned and removed by the dentist before applying the braces. This happens mainly because of not taking care of your gums and teeth. To avoid infection at the initial stages you must brush your teeth and gums regularly. But, if you ignore the issue and continue without medically treating the same, then, it may spread further and cause more damage to your gums, as well as your teeth. In such a scenario you will need to visit your dentist regularly for treatment and recovery.
Basic Things You Should Take Care of While You Wear Braces with Gum Disorder: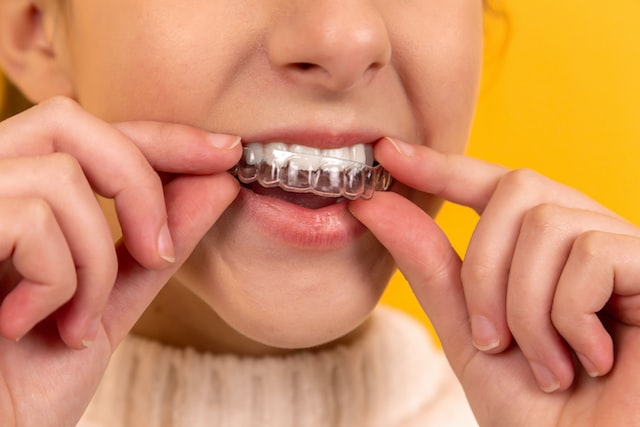 You must clean your teeth and gums regularly. You need to be extra cautious in cleaning the braces where food particles may get stuck. By doing so, you can get rid of diseases like plaque, etc. For cleaning, you can use a quality soft toothbrush, toothpaste, mouthwash, and floss. Floss is very useful to remove hidden food particles from teeth gaps.
Visit your dentist regularly for routine checkups. So that you can prevent unwanted damage to your teeth, gums, and braces.
It's absolutely important to see that your gums are in good shape and health. If the gum infection increases, then, you may lose a tooth or a set of teeth. As a result, gaps will be developed between teeth. Now, braces are used to push your teeth forcibly to make them straight. But, gaps will make the teeth alignment process complicated. Hence, the overall dental restoration (teeth straightening) process will be a lot slower than expected.
You can contact Dr. Sahakyan a reputed Dentist in Burbank to fix your orthodontic issues.
Why Do You Consider MyDentistBurbank?
Not all dental clinics use modern techniques and have the latest gadgets to ensure smooth treatment. At MyDentistBurbank we have state-of-the-art facilities and infrastructure. Our dentists are highly qualified dentists and follow advanced procedures that can assure you of the highest level of satisfaction. We always maintain a sincere approach and keep the patients up to date about their recovery status.
Dial 8185782332 and book an appointment in advance.