Dental Implant Materials and Companies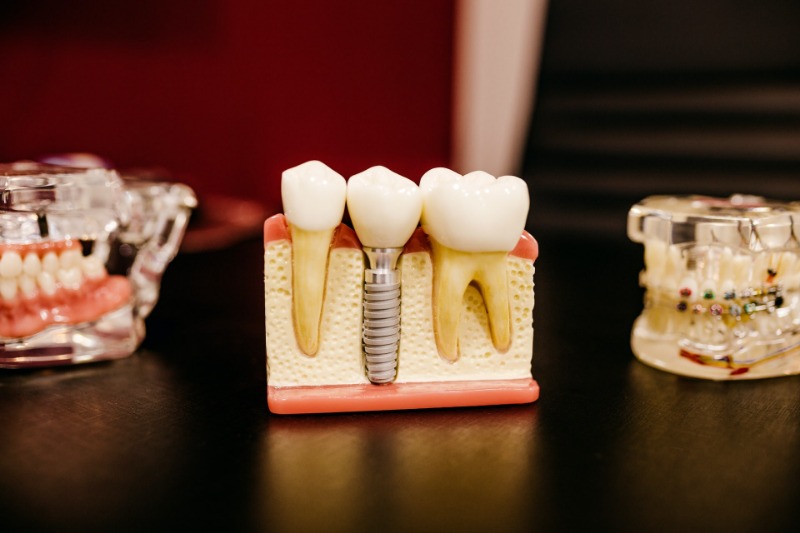 An implant is an artificial tooth root, which is usually made of titanium or zirconium. The implant is screwed deep into the bone tissue and after successful engraftment, crowns and an abutment are placed on it.
The essence of implantology is to conduct the highest quality implant implantation, as it remains in the jaw bone for many years. If you need dental implants in Burbank, call 1-818-578-2332 to schedule an appointment today.
What Materials Are Best?
The common types of dental implant materials used in making dental implants today are:
Traditional Titanium Implants
Titanium is absolutely neutral for the human body and does not cause any allergic reactions in the patient.
The process of engraftment of titanium implants in the dentary proceeds very quickly, without delivering any discomfort or pain. It is also important that titanium has the characteristics of elastic properties that are closest to bone tissue.
Zirconia Dental Implants
Zirconia implants are made from zirconium oxide. It is a very durable material. Zirconia is 100% compatible and recommended for patients who may experience allergic reactions and implant rejection.
The color of such implants coincides with the shade of the enamel of native teeth. They are popular for prosthetics of the front teeth.
Dental Implant Companies in the USA
After you've found an experienced and reliable dentist, you can look into the best dental implant companies in the USA:
Here are the top five companies to look at:
Straumann
Nobel Biocare
Dentsply Sirona ( previously Astra)
Zimmer
Biohorizons
Straumann

Straumann dental implant system is recognized as the best in the world, thanks to its high quality and reliability. Implants are easy to install, take root very quickly, and the probability of rejection of the system is minimized.
Straumann company carefully ensures that all products of their brand meet international quality standards. All implants manufactured by the company have a lifetime warranty.
Modern manufacturing techniques and long-term clinical trials allow the introduction of Strauman even in the most advanced cases with a complex clinical picture. Installation of these implants can be performed with any anatomical features of the face. They are simply indispensable in the initial stage of the patient's jawbone death.
Straumann implants are made from pure titanium of the highest quality, having excellent biocompatibility. Medical titanium is absolutely safe for health and does not cause allergies, the probability of rejection is almost zero.
Thanks to the use of patented technologies, Straumann implants take root very quickly. In some cases, the bone tissue can heal even in a few days. The recovery period after implantation is easy and painless.
Nobel Biocare
Premium implants from the USA are represented by brands Nobel Biocare and Biohorizons. It was the founder of Nobel Biocare, Professor Bergmark, who discovered the biocompatibility of titanium. These implants are a model of advanced technology, thanks to which implantology has become available even to patients who have previously contraindications to surgery due to low immunity or diabetes.
Benefits and Features:
Each implant is covered with a unique Ti Unit material, due to which the process of osseointegration is much faster (in its structure and composition it is very close to the bone tissue);
3D planning of the surgery, which is the key to the accuracy and high aesthetics of the finished design;
Due to the design features of the thread and the body of the implants themselves, tissue trauma is minimal;
A wide range of implants in diameter and length makes it possible to install them even in the most seemingly difficult clinical situations;
Simplicity, consistency, and accuracy in the surgery;
All Nobel implants have identification numbers. Fake is impossible.
Dentsply Sirona ( previously Astra Tech)
The products of the brand Dentsply Sirona, ( previously Astra) implants are of premium quality and detailed design. Studies have shown that the Astra Tech systems adapt to virtually any clinical case. It also shows the highest survival rate, especially in comparison with other implant brands.
Dentsply Sirona Implant System is reliable and simple: a minimum of components with maximum flexibility.
Benefits of Astra Tech Systems
A number of benefits help to maintain the leading position in the implantation of Astra Tech. Benefits of Astra Tech Systems are:
fast and high survival rate: the structures function well for a long time in 99% of patients,
low risk of complications: ensured by high-quality products,
the universality of the implantation range: which is convenient for both the patient and the dentist,
minimal tissue injury during the installation process: facilitates the rehabilitation process,
long-term comfort and the preservation of the aesthetics of a smile: due to the low resorption of marginal bone areas and gum recession,
suitable for patients with compensated diabetes and osteoporosis.
Zimmer
Formed in 1927. Zimmer Biomet combined forces with Biomet to create Zimmer Biomet. They make bone graft materials, dental implants, regenerative materials, and many other things.
As they have so much practice making these products, you can trust them.
Benefits of Zimmer Dental implants
Some of the benefits associated with Zimmer Dental implants are:
Greater comfort
Cost-effective
The natural, beautiful end result
High precision levels for patients of varying dental health
Reduced treatment and healing time
Minimized preparation and steps required
Stable, secure prosthesis for reconstructions in any area of the mouth
BioHorizons
One of the young companies, which have already managed to recommend themselves, is the American company BioHorizons. They represent Prodigy brand implants. They are distinguished by an enlarged surface.
The Benefits of Installing Implants BioHorizons in Dentistry
Fast establishment of implants: they are processed with a natural biocompatible material and have a rough surface that does not cause their rejection;
BioHorizons implant, made from a special alloy, will withstand serious chewing loads;
The load on bone tissue during the installation of BioHorizons implants is evenly distributed;
The shape of the implant in the form of a cone allows you to install it immediately after the loss or removal of a tooth;
These implants are ideal for patients who do not have enough bone tissue;
Restoration of lost teeth with BioHorizons implants has become as easy and comfortable as possible.
For more information or to find out if dental implants might be the right treatment option for you, please contact the experienced Burbank dentist, Dr. Sahakyan to schedule an appointment. Please call 1-818-578-2332 for an appointment today.