Choosing Between Dental Implants Or Bridge Treatment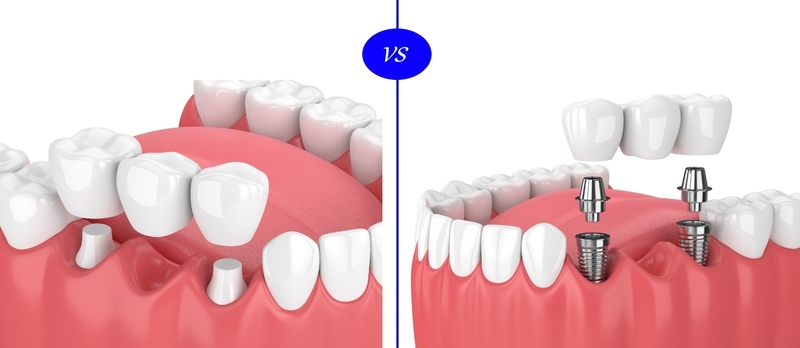 Implants are a more conservative healing process than bridges. Accordingly, most dentists recommend implant placement as a substitute for a dental bridge.
If one or more teeth are missing, it is standard that you a question pops up in your mind of what is the best solution to replace a tooth. What should I wear? An implant or a dental bridge which one is better? What is the best alternative for dental bridges or implants?
When you lose a tooth, both visual and functional factors are lost. And consequently, it is essential to substitute lost teeth as soon as possible to keep away from changes in the mouth and chewing problems.
The bridge is a fixed dental prosthesis that is cemented to nearby teeth allowing you to get back aesthetics and chewing. Besides, the implant is a non-natural titanium root that is placed in the bone.
Both the dental bridge and dental implant will let you put back the lost tooth, reinstating aesthetics and chewing, and both treatments have pros and cons.
Dental implant cost is at present very similar to the dental bridge process. Nevertheless, the length of the implant is longer and also has the benefit of maintaining your bone and not having to file the adjacent teeth.
An Implant or a Dental Bridge: What to Wear?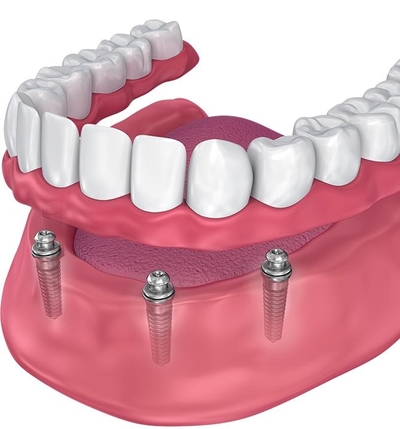 The untimely loss of one or more teeth is a general problem, more so in adults, particularly after 45 years. Only 5% of people over 65 keep hold of all teeth.
There are multiple ways to substitute a lost tooth. However, among all those available to do it lastingly, dental bridges and implants show up. In both the way out, fixed teeth are positioned and both allow unavoidably improving aesthetics and chewing.
The dental implant is the only healing process that allows safeguarding the alveolar bone, which is very essential in the face of proper oral treatment.
When placing a dental implant, it is assumed that healthy teeth do not touch at all. This is because the dental implant is placed on the bone and does not need to rest on your natural teeth.
Dental Implant vs. Bridge
Dental implants and bridges can both actually bring natural-looking results. However, they come with their own plus and shortcomings. Here's a look at how these two tooth substitution options match up to.
Dental Bridge Pros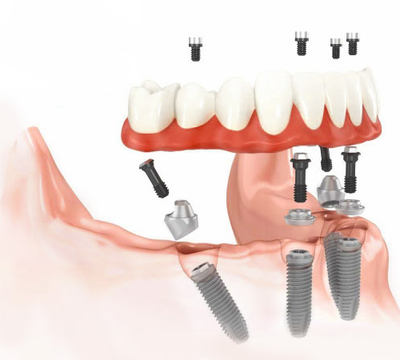 Expected to be covered by insurance
Doesn't necessitate bone grafting or invasive surgery
Generally, the lower upfront cost compared to dental implants
Habitually requires only two visits to your dentist
Dental Bridge Cons
Need to be restored about every 5 to 7 years
Loses a natural look with age
More cavities and teeth decompose in surrounding teeth than with implants
Can harm the healthy teeth around the lost tooth
Dental Implant Pros
Can last 15 years at times
Hold natural-look longer than bridges
Don't spoil the healthy teeth around the implant
The very high 10-year success rate
Dental Implant Cons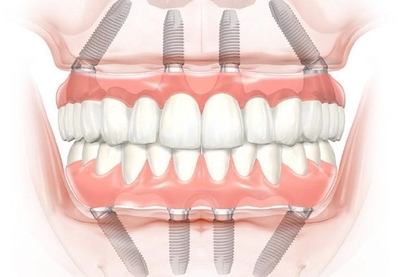 Fewer chances of insurance cover
The procedure can take up to 6 months
Higher upfront cost
May cause surgical hitches
Dental implants and bridges are two choices for substituting a missing tooth. A dentist can, however, help you settle on which option is best for your condition.
If you are looking for Burbank Dental Implants or Burbank Bridge Treatment, visit us at MyDentistBurbank. Call us today on 8185782332 to book an appointment with Dr. Sahakyan, your Dentist in Burbank.